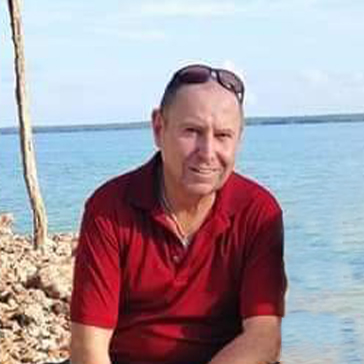 Owner/Broker Paradise Found Belize Ltd & Cerros Sands. 35 years of experience, 21 years living in Belize. Belizean & US Nationality. Formerly A licensed broker of California USA.
A member of The Association of Real Estate Brokers of Belize and formerly a founding member of Belize National Association of Realtors.
Mark has very strong credentials covering all aspects of real estate. From sales, lending, marketing, development, including land planning and engineering, infrastructure, residential and commercial construction, business management, and real estate law. Also is a specialist in Waterfront and Resort-Recreational.
Experience:  Brokering and owning a Residential and Commercial Sales, Leasing, Mortgage Company and a construction company Paradise Construction Ltd in Belize. Another entity includes a Development Company with a Property Management Division.
Prior to entering Real Estate and obtaining his Brokers License, Mark worked for Chevron Corporation for 13 years. Working his way through all the major accounting departments ending this career as a Financial Analyst in Chevron Information and Technology, the companies Computer Technology and Telecommunications subsidiary.
Mark Leonard brings over 35 years of real estate, financial management and development experience.
Many leaders from State, County and City government and civic organizations in his former California home, honored Mark with his recognition as Business Person of the Year, 2001 for The City of Pittsburg, California.
Amongst the Affiliations and Accomplishments bestowed upon Mark are Member, National Association of Realtor and California and Delta Association of Realtors.
Former Board Member of the Pittsburg Chamber of Commerce. Past President, Pittsburg Rotary Club 1999-2000. Chairman, Planning Commission, City of Pittsburg, Ca. (population over 60K).  Member, Power Plant Advisory Committee, City of Pittsburg, Ca. Member, Board of Directors, East County Boys and Girls Club, City of Pittsburg, Ca. Commodore, Pittsburg Yacht Club, Pittsburg, Ca. Currently Commodore of The Cerros Sands Yacht Club. President, New York Landing Business Association, Pittsburg, Ca. President, New York Landing Homeowners Association, Pittsburg, Ca.
My interest in serving on the Board of Directors has many facets.
Ensure the Real Estate Bill is adopted to regulate the industry.
To the best of the Boards ability work with the Lands Department to ensure:
Timely processing of Transfers
Fair level field for Valuations. Once this is accomplished International Lenders can be induced into lending in Belize.
Assist Agents with issues of their clients in dealing with the Physical Planning Unit and Mutations.
Develop a process to enable interaction with Lands on behalf of Members with regard to the 3 items above.
3)     Canvass the membership for their thoughts on a Nationwide Multiple Listing Service.
4)   With the completion of the three items above bring together all Real Estate Brokers and Agents under AREBB.
I believe having over 20 years of Real Estate Experience in Belize, I am a Belizean / American and over 35 years of experience in Real Estate as well as many years in associated fields including development and construction which allows me the opportunity to provide the membership and the Board of Directors with a vast array of knowledge. I served on most all of the committees of the Real Estate Boards I was a member of in the US.
I owned a Mortgage brokerage in the United States. The valuation process is so important to Belize. If lenders can really see a comprehensive comparative market analysis they can be solicited into lending in Belize. We all know what it's like to get a mortgage in Belize. This needs a major revampment.
Having served as The Chairman of a Planning Commision of a City of over 65,000 working with 100's of projects and planning the future growth of a city can only help the overall economic development of Belize. As agents we see potential projects burdened down for no reason. That needs to stop. The delays, specifically the Department of the Environment and Physical Planning are causing investors to rethink further investment  or completely walk away from Investing in Belize. This must stop for the benefit of all Belizeans.
I am phasing myself out of real estate sales, as my son Chris has come to Belize to take over my operations.  I have the time and energy to dedicate to AREBB as well as my own staff support that can assist as well. If anyone would like to reach out to me, I can be reached at 670-8724.
Mark Leonard